taking advertisement to a whole new dimension
volumetric 3D

voLumen is a volumetric three dimensional LED display device. Its purpose is to project volumetric animations onto eyes of a human spectator. It can mainly be used for advertisement and entertainment purposes. As a technology in this form has not been developed so far,  it is quite an eye catcher and especially companies can gain people's curiosity by advertising their products with voLumen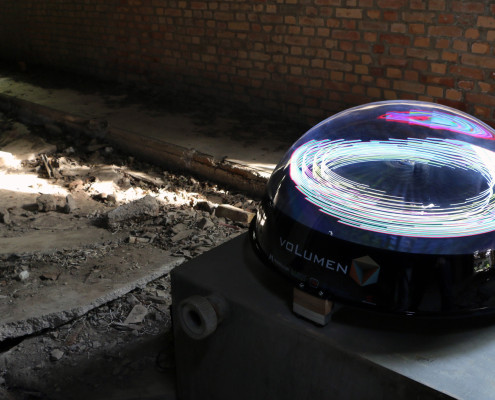 By quickly rotating thousands of LEDs around a common axis using a precise microprocessor-control-logic magic becomes a simple principle. The persistance of vision of the human eye enables the impression of a solid volumetric object. Using a speacially developed PC-Conversion software, animations and contents can be easily generated from 3D-Modelling/CAD software with just the press of a button! voLumen can be connected to a PC via USB to transfer the data to the 16GBytes of internal high-speed solid-state memory, which allows enough space for 36 minutes of smooth volumetric colourized 3D playback!
watch the video below to see how is works:
voLumen has been designed with special care to silent operation and long duration playback. Every bolt and every wire has been chosen after months of research and evaluation.
The main constructive parts have been CNC milled out of solid aluminum and are assembeld precisely according to a detailed 3D-CAD design.
A shiny and brushed surface which is supposed to reduce noise and to cover the mechanics and a shiny and glossy arylic dome make voLumen pure eyecandy – blending into almost any environment makes voLumen flexible for almost any exhibition!